Keyala Dobermanns was born in the UK in 1988, and in 2007 because of the docking ban in the UK we decided to register our kennel name "KEYALA" in France, but to our disappointment because of the UK kennel club not being a member of the FCI we were not allowed to transfer the affix, so we had to have a new name, so we decided in recognition of our most influential breeding female "Ch.Keyalas Wot a Thriller" known to her friends as "Rosie" we now breed under the FCI Kennel name of " WOT A THRILLER ".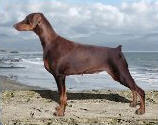 Ch.Keyalas Wot a Thriller
It all started with my first male "Bugsy" UK & Irish Champion Bilsam the Thriller J.W. The first Brown Dobe ever to hold both titles! An achievement we are very proud of. He also qualified for the Pedigree Chum Champion Stakes finals & was Runner Up in the Veteran Stakes 3 times. He was grandson of a very influential sire in the early 80's namely "Rosecroft by the way to Bilsam" an American Import who's pedigree was a mix of the famous Vom Ahrtal & Liquorish Kennels in the US.

(Bugsy & Me 1992) UK & Irish Ch. Bilsam the Thriller
We exhibit & handle all our own dogs + dogs from other kennels that stay with us all over Europe & we train our dogs for CSAU, TAN, TAT, TC + French Brevet / Ring. I have also been judging in the UK since 1995 & in 2006 i judged the "Dutch Dobermann Club Show" my first appointment outside the UK.

We do not breed in quantity and prefer to breed for quality. In 2002 we introduced Russian bloodlines to our own established UK lines, we choose these lines because of the super strong heads & fantastic bone, we imported a male first "Ch.Rensdorff Evsey" known as "Ice" then 2 years later a female from the outstanding "U" litter of Sant Kreal namely "Ursula" Sant Kreal Utro Severa.
Sant Kreal Utro Severa

Ch.Rensdorff Evsey
We pride ourselves in the fact that all our dogs are VWD Clear, they are all regularly tested for DCM, eyes are tested on all dogs that are bred from & no Male is offered at stud without a Hip Score.

When we sell our puppies, all homes are thoroughly checked. We never sell anybody a puppy as a guard dog, or if it is going to be kept in outside kennels. All new puppy owners are given a contract of sale stating, if there are any problems we will accept back the dog at any time or any age.

All our dogs live in our house as part of the family & once we decide to keep a puppy it stays with us for the rest of it's life. We never re-home dogs because they are "not good enough"!!!



We hope you enjoy browsing through our web pages at our dogs past & present.


Debbie